Jet Lag Secrets & Circadian Rhythms! Great Greger video, and the one at the end of this blog is interesting as well because of the significance of melatonin for assisting in re-tuning one's circadian clock, discusses tricks to traveling through several time zones. See the following summary sheet that is a great crib for both East and West travel and neatly indicates the cut off for counting as if going West after sufficient time zones East! For instance if by chance traveling to India…as follows: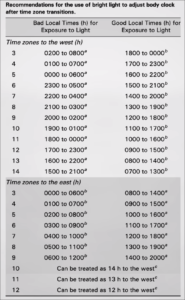 Have written about jet lag and the importance of our circadian clock several times in the past. Living on the West Coast of North America, it seems to me that travel should if at all possible be North South and not East or West. But after listening to Greger it is obvious that traveling East creates greater problems than traveling West.
He first of all deals with the irrelevant for circadian discussion!: travel fatigue that hits one from any long journey regardless of the mode of transport or the number of time zones crossed. Thus the start to the resulting stress from most travel holidays! Another myth is the concept of dehydration being to blame. That a half glass of water compensates for an 8 hour plane journey…another real educational tit bit!
But the most salutary, was the fact that the cabin pressure is equivalent to 10,000 feet above sea level…This for the length of the journey. Now I know that I along with many others feel the effects of altitude sickness and this height will certainly ply it's toll on us! They call it hypoxia! Another tiring and wearing issue of plane travel unrelated to circadian rhythm!
Jet Lag Secrets & Circadian Rhythms! Now and only now we get to jet lag! This is the lack of synchronization of one's internal body clock to the reality of crossing time zones! The duration of jet lag will be approximately two thirds of the time zones crossed when traveling East and half of the time zones when traveling West! So there is a real difference depending upon which direction East or West ! Practically this means traveling across 6 time zones say to London means 6 X 2/3 = 4 days! Whilst the other way West it is 6 X 1/2 = 3 days. The reasoning for this disparity is that going West means the day is longer and this coincides with our internal clock that is really about 25 hours and therefore a longer day…circadian meaning 'about a day' to a naturally longer time period!
How to deal with? If just traveling one or two time zones no problem…but otherwise try to have appointments to coincide with day time back home and allow for gradual adaptation. Perhaps key to adapt to some extent before leaving on the journey! But maybe one hour of adaptation is sufficient without disruption! All this turns on light and light therapy! But if one travels across more than 8 time zones then the calculations become complicated! Just listen to his brilliant summary! But generally try to avoid the light in the morning and welcome the light in the evening until gradual adaptation. More than 10 time zones really becomes an effective travel West…!  Bottom line: a vacation in Hawaii..means traveling West…means three hours difference from West Coast. With some pre-adaptation the two time zones are really immaterial. But all one must emphasize is adapting to light in the morning as opposed to avoiding it if one travels East! This is the reason Hawaii is so much easier. With some pre-conditioning the two hours are immaterial otherwise they rapidly are adapted to with a shorter adaptation time. It is effectively 1 1/2 days and that is eliminated with an attempt to liken more to Hawaii time by one hour before traveling! Now it is tougher on the return journey but after all that is not prime vacation time!!
Another fantastic tip from Greger…to be wary of melatonin tablets…these, and this is not discussed too much, are gonad negatives! Aside from that notorious for being unreliable in strength…but he has a neat and singular solution….eat just a few…yes just a few…pistachio nuts! The singular food that actually is a complete substitute for melatonin tablets, natural and even two or three…yes two or three will do the job!! Now pistachio seems to be singular in the food department that does the job…there is a lot of melatonin about in the nutrition kingdom of vegetables and nuts…but they do not measure up to the job as does pistachio that is miles ahead in concentration! So instead of taking melatonin close to target bed time take pistachios! Wow! This way we avoid that gnawing gonad issue! Jet Lag Secrets & Circadian Rhythms!