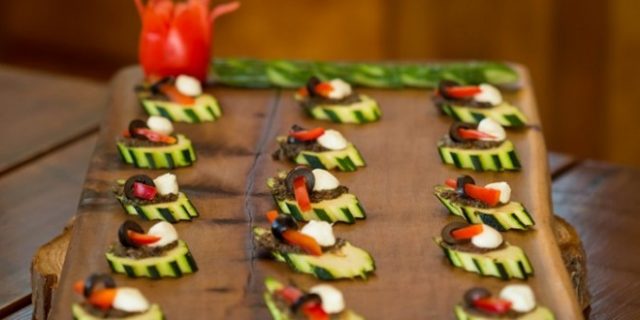 Serves 6-10; 2 cups pitted and drained Kalamata black olives; 2-4 cloves garlic, minced zucchinis sliced; 1/2 cup Kalamata black olives sliced for placement; 1 red
pepper sliced in julienne; 10-15 mini boccocini sliced in half.
Put Kalamata olives, garlic, capers, basil, lemon zest, and balsamic glaze in food processor and chop to thick paste.
Black Olive Tapenade Bioccocini On Zucchini Rounds…
Spread tapenade on zucchini rounds; add slice of pepper, slice of black olive and half mini boccocini. Serve immediately!
Chef Maija Maltais, internationally recognized, and 'Health Foods' trained Chef at Middle Beach Lodge, Tofino….overlooking the Pacific.

For inquiries please phone reservations at
250 725 2900 or toll free 1 866 725 2900
Email: info@middlebeach.com
Website: www.middlebeach.com